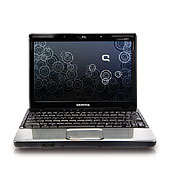 Product Family : Compaq
Product Line : Presario
Product : CQ20
The notebook is designed to automatically throttle its activity when its internal temperature exceeds predefined levels. If its temperature rises too high, the notebook is designed to shut itself down to protect its internal components.
For detailed information regarding heat-related performance, refer to Fan Runs Constantly, the PC Operates Slower than Expected and Generates Heat

.
Do not leave the notebook in a hot enclosure, such as a parked car, or in direct sunlight. Either of these can cause heat damage and warping.
The typical Lithium-Ion battery used in HP notebook PCs cannot charge properly at temperatures of 30 to 50 degrees F (0 to 10 C). At these temperatures, the battery charges extremely slowly and cannot acquire a full charge before the charging cycle times out. For proper operation, move the notebook to a warmer environment where the internal temperature of the battery can rise above 50 degrees F (10 degree C).
If the battery is left in a low temperature environment for 12 hours or more, you must warm the notebook and battery and then perform a hard reset of the notebook. To perform a hard reset, unplug the AC adapter, remove the battery, and then press and hold the power button for 15 seconds. Next, reinstall the battery, plug in the AC adapter, and press the power button again to turn the notebook on.
---
VGA Driver
Audio Driver
Lan Driver

Wireless for Windows 7

& XP

WLan Driver

Wireless for Windows 7

& XP

WLan Driver

Touchpad for Windows 7

& XP

TouchPad

Camera for Windows 7

& XP

Camera Aplication

Cardreader for Windows 7

& XP

CardReader

Bluetooth for Windows 7

& XP

Bluetooth

Hotkey for Windows 7 & XP

Hotkey
HotKey